Wiley Seminar - Part I: Spectral Searches with NIST MS Search
A demo of NIST MS search for identifying components in EI GC-MS analyses is presented. The data is acquired on a variety of GC-MS systems then sent to the NIST MS search for processing.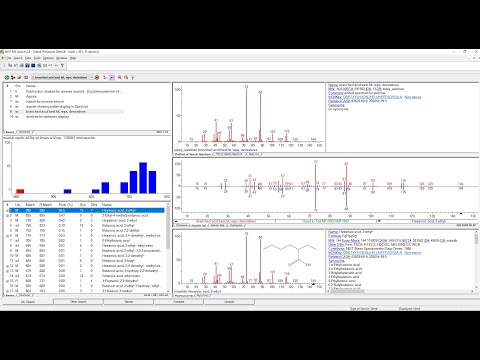 Mass Spec Interpretation Services/James Little: Wiley Seminar: Spectral Searches with NIST MS Search
I presented a 5-part Wiley Webinar Series in August-September, 2020 on EI library searches. The series demonstrates the effective use of NIST software such as MS Search, MS Interpreter, and AMDIS with the Wiley, NIST, and user-created libraries.
The Part I will cover:
Detailed Handouts including tables of content are available in the LabRulezGCMS library.
NIST Mass Spectrometry Software and Wiley Libraries
Help Files for NIST Search
General Windows commands/functions
Customizing the windows
Tour of NIST Search Program
Critical parameters for searching library
Setting up presearch parameters
Primary Libraries of EI Spectra and Associated Structures
Other EI Libraries: Wiley/NIST Combined and specialty
Selecting the libraries used for spectral searches
Select the libraries used for similar structure searches
Selecting limits to avoid high match factors for partial spectra
Constraints applied to hit list after the list is determined
Saving setup of standard search parameters
Searching demonstration/Tip No. Synonyms and databases
Reverse match for mixtures versus standard match .
Display of related species
InChIKey field link to PubChem on web
Updating indices in older libraries
Library spectra m/z values by nominal not exact mass
Retention indices (Kovat) determined by users in AMDIS
Different derivative displays
Using NIST software to obtain proposed nominal MW and substructures
Webinar references
Acknowledgements
Future parts will focus on:
James Little/Mass Spec Interpretation Services