Method development for petroleum analysis using GC×GC-MS/FID (Sebastiano Panto, MDCW 2023)
Prototype flow-modulated GCxGC-TOFMS/FID equipped with a novel splitter and peak alignment algorithm was used for more accurate group-type quantitation of hydrocarbons.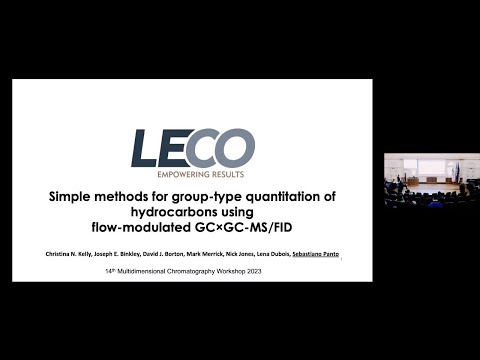 Photo: MDCW: Method development for petroleum analysis using GC×GC-MS/FID (Sebastiano Panto, MDCW 2023)
Video: LabRulez: Sebastiano Panto: Characterization of automobile material emissions by TD-GC×GC-TOFMS (MDCW 2023)
🎤 Presenter: Christina Kelly¹, Joseph Binkley¹, David Borton¹, Mark Merrick¹, Nick Jones¹, Sebastiano Panto², Lena Dubois² (¹LECO Corporation, Saint Joseph, Michigan, USA. ²LECO European Applications and Technical Centre, Berlin, Germany)
💡 Book in your calendar: 15th Multidimensional Chromatography Workshop (MDCW) January 2024
15th Multidimensional Chromatography (MDC) Workshop 2024
Abstract
Published in 2022, the flow-modulated GCxGC-FID ASTM Standard Test Method D8396 for Group-Type Quantitation of Hydrocarbons in Hydrocarbon Liquids demonstrates that GCxGC is gaining acceptance as a routine technique in the petroleum industry.
With this acceptance comes the expectation for easy-to-understand, user-friendly interfaces and robust hardware that reliably provides full transfer of analytes throughout the separation space for accurate quantitation of chemical species that correlate to bulk physical properties of petroleum products. Preliminary results from testing both gravimetric standards and a variety of reference aviation and diesel fuels evaluate a variety of method parameters crucial to providing proper transfer of analytes from the primary to secondary column when using flow modulation.
Clear workflows that simplify GCxGC method development for reverse fill-flush flow modulation are optimized for easier adoption in routine laboratories. Additional support in characterization of samples is provided using a prototype GCxGC-TOFMS/FID instrument which is equipped with a novel splitter design that ensures a consistent split ratio between the MS and FID detectors to avoid erroneous area percent determinations as well as a novel peak alignment algorithm that simplifies identification of FID peaks using corresponding MS spectra to assist in drawing regions for more accurate group-type quantitation of chemical classes.
The Multidimensional Chromatography (MDC) Workshop