DataApex Clarity 9.0 Chromatography Software Released
We, 2.8.2023
| Original article from:
DataApex
We are happy to announce the release of the Clarity 9.0 version! This latest version has many new functions and enhancements; please see our short video.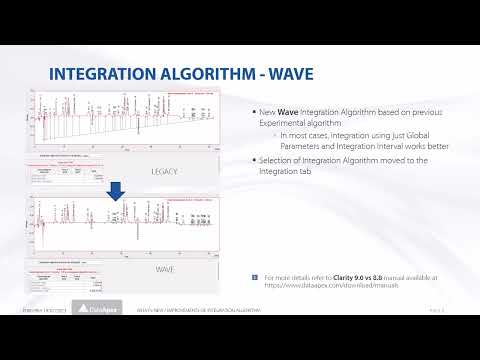 Photo: DataApex: DataApex Clarity 9.0 Chromatography Software Released
Video: DataApex: What is new in Clarity 9.0
The upgrade to the Clarity version 9.0 version is paid, a new user code is needed for this version. Customers who purchased their Clarity software after July 25th, 2022 are eligible for a free-of-charge upgrade under the condition they have registered their software. Please refer to the upgrade details.
💡 A detailed list of changes is available in whatsnew.
What is new in Clarity 9.0?
Improvements of the Integration Algorithm – new algorithm Wave based on previous Experimental
Batch dialog redesign, improved handling of calibration during reprocessing
Improvements in Audit Trail
Clarity design adjusted to the Windows 11 environment
A new option Move down after Enter in Sequence Table to support barcode readers
Updated SW upgrade policy including paid upgrades of major versions
New and updated control modules
Batch Dialog
Options regrouped to reflect the real workflow
Calibration cloning from Batch issue fixed
DataApex: Batch Dialog in new in Clarity 9.0
Audit Trail
Logging of system messages and pop-up windows improved
It now contains info about the instrument and user
DataApex: Audit Trail in new in Clarity 9.0
Integration algorithm - WAVE
New Wave Integration Algorithm based on previous Experimental algorithm

In most cases, integration using just Global Parameters and Integration Interval works better

Selection of Integration Algorithm moved to the Integration tab
For more details refer to Clarity 9.0 vs 8.8 manual
DataApex: Integration algorithm - WAVE in new in Clarity 9.0
Barcode reader support in sequence table
The Sequence Table - On Enter option defines where the focus moves in the Sequence table after pressing Enter:

Move Right – default option
Move Down – used for barcode readers emulating keyboard
DataApex: Barcode reader support in sequence table in new in Clarity 9.0
Updated SW upgrade policy
New software license comes with free upgrades one-year period

Major versions – upgrade

Change of the version number is before the dot - A.b.c.d
Includes the change of the user code
Are paid (unless the user is entitled to one-year free upgrade)

Minor versions – update

Change of the version number is after the first dot - a.B.C.D
Free of charge

We sell and provide support only for the latest version of Clarity
For more details refer to Clarity SW upgrade
DataApex: Clarity 9 Advanced Chromatography Software
Other improvements and fixed bugs
Fixed MS Search and NIST libraries result differences caused by sending the wrong spectral range from Clarity to NIST

Improvements in the behavior of Fraction Collectors

Better handling of method version to prevent memory exhaustion

New warning when method size exceeds the limit
… and a lot more
New control modules
HTA 2000H, 2000HT, 2100H
QuadroCore MCore
Shanghai Sunny Hengping Scientific Instrument GC-MS
... and many control modules have been updated and improved, for more see Changes in version 9.0.0 (25.07.2023)
DataApex: Shanghai Sunny Hengping Scientific Instrument GC1290 + MSQ8100