GC & GC/MS webinars Week 3/2022
This week 6 GC & GC/MS webinars: ChromCompare+ for GC/MS and GCxGC data, SLIMS, Microplastics TGIR-GC/MS, Empower and Data Integrity, GC colums, GC liners.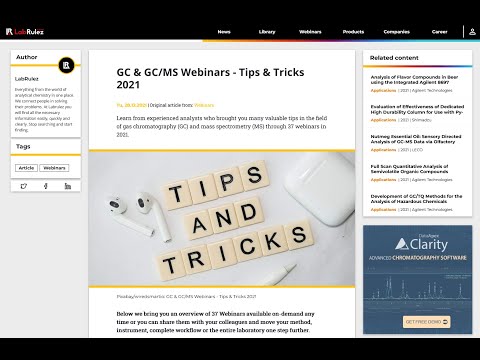 Foto: LabRulez: GC & GC/MS webinars Week 3/2022
Video: LabRulez: GC & GC/MS Webinars - Tips & Tricks 2021
In the week from January 17, 2022, the following webinars await you in the field of GC and GC/MS.
👉 Search and filter in more than 1 500 GC, LC and MS webinars.
LabRulez: GC & GCMS webinars overview Week 3/2022
1. SepSolve Analytical: From data to decisions: Automated non-target workflows for comparing GC/MS and GC×GC data
Register now to see ChromCompare+ in action across a range of real-world applications – including evaluation of honey authenticity, fragrance profiling and identification of malodours in plastics.
2. Agilent Technologies: Ramp up your COVID test operations quickly with Agilent SLIMS
Tools such as laboratory information management systems (LIMS) and electronic laboratory notebooks (ELNs), among other solutions, can help mitigate the impact on life in the lab.
3. PerkinElmer: Critical Insights on Emerging Technologies and Challenges In Microplastics Analyses
This eSeminar will provide an update on the latest trends, technologies and best practices related to the identification, detection and measurement of Microplastics in environmental matrices.
4. Waters Corporation: Empower Tips: Ask Me Anything About Durable Data and Intrinsic Compliance
The global best practices for data governance and how to achieve robust data integrity within the complexities of balancing people, process and technology and across the complete data lifecycle.
5. C&EN/Agilent Technologies: Keeping Your GC Column Happy and Healthy: Installation, Care, and Maintenance
Join us as we discuss proper column installation and handling for the 6890/7890/8890 as well as the Intuvo 9000.
6. Agilent Technologies: Get your GC methods in-line with the correct liner
Join us as we discuss the different liners in our portfolio and help guide you in the selection process.